Post by Jessabelle on Dec 28, 2011 12:52:52 GMT -5
The Bickering Siblings
Born in 2007, I adopted these two a lonngg lonngg while ago. For a while they were two of the only 4 petz I had in game, and I really grew fond of the cali file. An adoption thread over at PCG sparked my memory of my calico-only, close-net crew, and I had to get these guys out in the game. It helped me to start wanting to play the game for the actual game again, and I had a lot of fun with these guys! Having them out made me realize how little I really know about their personality, and I got to know them a lot better today. These two bickering siblings are becoming favorites in my crew once again <3

Zoidberg
-
This guy is a softy. He lets Leela, his sister, walk all over him. The poor guy! He loves his jingle ball, and will shake it around in his mouth. He's not the most spunky guy in the world. Actually, he's relatively boring a lot of the time, laid back, and content not doing very much. He's a sweetheart though, and will purr when I pet him. I've always want to find him a gal friend and I think I may have found one at the adoption thread I mentioned, if I'm chosen. * crosses fingers *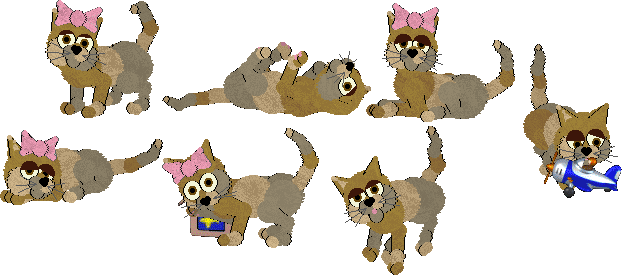 Leela
-
This girl is basicly the exact oposite of her brother. She is constantly doing something, active, and lovessss to play. She's taken a liking to the airplane, and she'll literally jump up and down the whole time it's flying around in the air. xD There wasn't much to do and she picked up and set down the box of fish treats over and over again. Seemed like she just did so far something to do, because once I took a treat out she was still intersted in jumping up and down from the chair, picking up and dropping the bag of treats. Silly girl! =P She's usually the one that picks up fights with poor Zoidberg, as he hasn't had any problems with other cats. She's just...... mean! lol. But I love her anyways, and have tons of fun with her when it's just me & her. I've gotten a few good poses from her in the time she was out too, so I'll probably enter her in the ring really soon.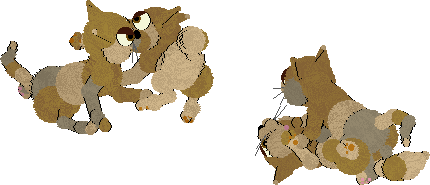 While I love these two... they really bicker a lot!
These siblings are absolute opposites, and man... do they ever fight! o__o
I keep them separate most of the time so I don't have to split them up. I love them both dearly, though - and I've had them for such a lonng time!
Both were adopted from
Kristi @ Sharmooze
back when geocities sites were around. <3