Post by criticallycrucifie on Aug 6, 2011 1:09:00 GMT -5
Sinnoh Kennel and Cattery

This page is dedicated to all of the special catz that I have used in my "crew", though I have about 1,000 petz, I do have numerous beautiful petz that hold a special place in my heart. Probably near 100 that I know I could absolutely never part with and those are whom I've chosen to show. I am hoping to show-case them here for you not as "breeding stock" as some of my other petz but as part of my virtual family. I hope you enjoy seeing them.
Please make a small note that all graphics noted on this page were made by me and are copyrighted to myself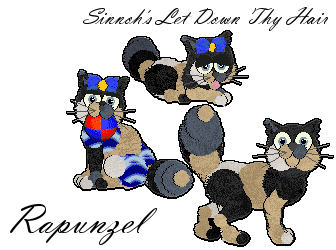 Show Name:
Sinnoh's Let Down Thy Hair
Call Name:
Rapunzel
Gender:
♀ - female
Total Show Points:
0
About Rapunzel:
I bred this girl while working on a very recent (just a few days ago!) breeding request for Sunshine a moderator here on LSF! She was the product of what I became obsessed with after seeing what I produced for that service and I can't deny my love for chinchilla persian tails. Her eyes and colors go together oh so well. She is by far one of my favorite catz already and I love dressing her up. She poses rather well however the thing I hate about her tail is that when judges see it .. It's a rather hard placement
since chinchilla persian tails don't curve entirely as most would like to see them to. Either way I love my girl! She is daughter of "Knut" and half sister of "Bullshark" whom you will meet below!
Show Pose Link:
i104.photobucket.com/albums/m197/Mushamoo100/petz4-1.png
---------------------------------------------------------
Show Name:
Sinnoh's Guilty Pleasure
Call Name:
Knut
Gender:
♂ - male
Total Show Points:
1
About Knut:
Knut isn't really that old either! But he sure is a handsome boy who produces gorgeous kiddos! His daughter is Rapunzel above and one of his son's is Bullshark who you will see below. Knut has a maine coon personality and hidden "boot" markings from his very scarce B&W Shorthair heritage. He's a real sweetheart and I just love russians with big eyes and odd alley ears so when he popped out I literally squealed out loud. I really love his pose and personally think he needs a BIS all the time but he's my baby! I can't wait to finish him at least at 50 pts though I think I would have the ambition to go all the way to Legend if I could with this guy!!
Show Pose Link:
i104.photobucket.com/albums/m197/Mushamoo100/SinnohsGottaKnut.png
---------------------------------------------------------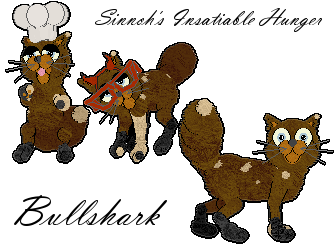 Show Name:
Sinnoh's Insatiable Hunger
Call Name:
Bullshark
Gender:
♂ - male
Total Show Points:
0
About Bullshark:
So I have a thing for nice long legged sexy coons, though I believe that my little Bullshark here has meezer legs, they are so difficult to align >_< that they make me want to scream! But he does pose well. Worst thing again is my chinchilla persian catz usually get placed low since the tails are so hard to get curved to just the right point. I literally spent hours on their poses since I always snapped the photo at the wrong time. If you were playing my game you would usually encounter Bullshark playing with his friend "Tookers" who will be featured here soon, and being a complete nerd in his chef's hat. He's so amazing, and I am so glad to have my little butterball!
Show Pose Link:
i104.photobucket.com/albums/m197/Mushamoo100/petz7.png
---------------------------------------------------------
More very very soon

I'm slowly getting their banners done but surely. I guess I need to work on groups of about 6 at a time

Hoping to get 30 points on each of my "crew" that aren't just breeding stock. These guys are naturally raised and played with! A thread for the dogz will be up soon as well