Post by [Lucid] on Aug 11, 2011 12:56:56 GMT -5
Here at LSF everyone is encouraged to try out juding their own petz shows, no matter what experience level they have with judging.
However, please read over this thread of what we consider to be acceptable and NOT acceptable to place in petz shows. We ask that all judges consider complying to these guidelines so that people who work hard and pose their petz well have the opportunity to fairly get points over those who just enter the first picture they can get of their pet, or cheat.
Having this universal guide of what should be DQ'd will help to create less confusion for members. For example, they won't have their pet DQ'd in one show and place in another.
In this end, this guide is only a suggestion (except for the edited poses part, that's mandatory). All judges reserve the right to judge as they please. We just hope you keep these ideas in mind while judging to make LSF as fair of a forum as possible.
Part 1: What to NOT Place or Judge
EDITED POSES
You
must
DQ all edited poses. No matter how small the amount of editing is. This is cheating first and foremost. If you have a question as to wether or not a pose is edited, PM one of the Admins and we will discuss it. If an admin sees an edited pose in your show, they have the ability to DQ the pose on the spot, that way the person does not continue to enter edited poses in other shows.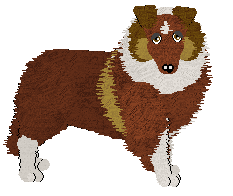 This pose IS edited. It has an added eyeshine. It should be DQ'd, even though no pixel editing has been done.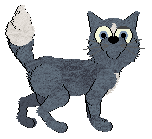 The above is a before shot, a NON-EDITED pose, though it's a kind of crappy pose it is acceptable to enter in a show.

This is an after shot, an EDITED pose. It needs to be DQ'd. Part of the legs have been erased to attempt to make the pose appear more aligned. Usually if the legs look really strange as opposed to what you normally see, there's a strong possibility the pose may be edited.
If you get the perfect pose, but the pet is facing left, it IS considered cheating if you flip the poses so that they are facing right, and it is pretty noticeable. These poses must be DQ'd as well.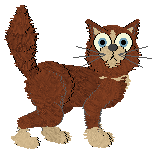 These are some examples of flipped poses, courtesy of Sunshine's catz. They would be DQ'd. It's pretty obvious they've been flipped because of the huge white space in front of the pose for one, and the petz alignment with the camera looks really off. Once again, this is considered editing/cheating.
The only type of editing that is considered to be acceptable is a small watermark that does not interfere with the pose to prevent pose theft. However, some judges do not allow watermarks of any kind, so please read each show's rules carefully.
The above watermark is acceptable.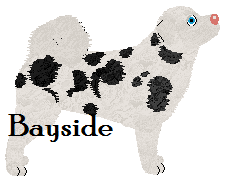 This is an example of an UNACCEPTABLE watermark. It interferes with the pose and must be DQ'd.
There are severe consquences for editing, including being banned from pose shows or even the forum. So it's really not worth it. Just keep trying and ask for help and soon enough, you will have a great pose.
SEVERE UNALIGNMENT
When it comes to unalignment, it's really up to each judge to define what they think is severe enough to not deserve points. At LSF we prefer you DQ or at the very least, not give pity points to poses that are severely unaligned, and instead point that person to the Pose Help board so they can improve. Afterall what fun is it if the competition's not tough and the same petz keep winning?!
Okay, so this one is pretty bad. Yes the dog is posing but it's awful in my opinion and HARDLY a pose. In a correct dane pose you're supposed to be able to see the side of the dog, and DEFINITELY not all four legs. The legs are NOT aligned obviously. This really doesn't deserve even an HM pity point. It needs help.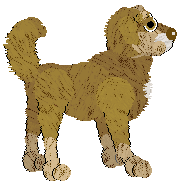 Okay, so now it's a little better but still awful. Rule of thumb: if you can see this much of all four legs, I wouldn't ever place it.

Okay, so yes, this cat IS posing. But once again, this pose is so out of alignment that it really doesn't deserve points. I'd either DQ or not place this pose, and no matter what direct the person who posed this cat to the help board. My rule of thumb for catz poses is if you can see almost the entire rear front leg when in "pose" position, it's a DQ.
You'd do best to DQ these poses and point them to the help board. Once again though, it is up to you as the judge to decide what needs to be DQ'd. But do these poses really deserve points?
NON-POSES
There are several kinds of poses that people will enter in shows that are not really poses at all. The following are some example of non-poses that most judges will not place.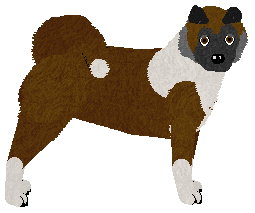 The dog above just standing. Apart from being unaligned, it is not in pose and should not be placed. The dog is slouched over, and it's back is not as straight as it should be.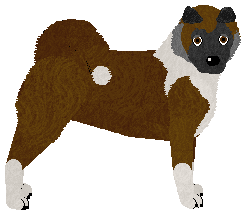 Even though this is the what not to do section, I posted the
CORRECT
dali pose of this dog (minus a few alignment issues) so that you can see the difference between standing and a pose. This pose is showable (though it's unaligned). The dog is not slouched over and it's picked it's head up and centered it. It also looks "proud".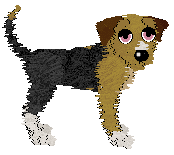 Here's another example of a non-posing "stander" from Kahi. The dog is not in pose, it's just standing there looking at the camera. This non-pose would be DQ'd as well in most pose shows, or not given points.
This cat is not in pose either, once again, it's just standing, looking at the camera and should/would be DQ'd or not receive points in most shows.
OVERPOSE/DOUBLEPOSE
The opposite of a standing pose is the OVERPOSE or some call it the DOUBLEPOSE. These poses are pretty much not even considered posing among most of the petz community. Here are some examples. This type of non-posing only occurs in dogz. At least I've never seen a catz overpose haha.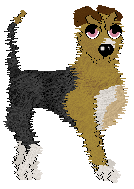 Provided by Kahi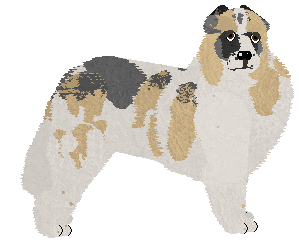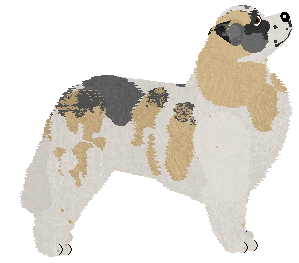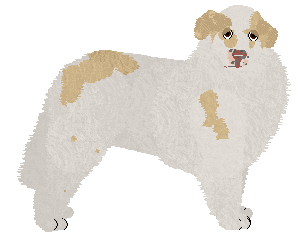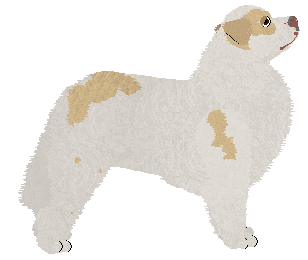 Provided by Cirrutopia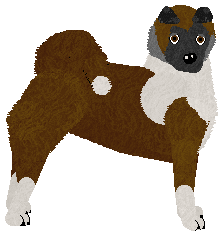 As you can see, all these dogz are stretched beyond what is a normal pose. A dog can overpose in both Dali or Dane pose, as shown above. Usually an overpose happens right before a dog brings itself back down into a normal pose, so be patient and don't enter overposes in shows.
WORK IN PROGRESS.
This guide is COPYRIGHT to LSF. If you want to use it on your forum, you must have explicit permission from Lucid. If you want to use the pictures, you must contact the member who owns them.